Recently I aquired an HTC Universal 3G phone. It's basically a pocket pc with a cellphone merged together. The thing comes with 3G network support, video call, WiFi, Bluetooth, SD card slot and Windows Mobile 5 operating system. Recently I upgraded the OS to Windows mobile 6.1 using unsupported hacked OS roms. More on that can be read
here
Considering it's been QUITE SOME TIME since I had my first pocket pc, I realized recently that the most basic operation of a mobile computer with WiFi support - Internet Browsing - was quite, QUITE lacking. This doesn't just concerns the Microsoft devices, don't get me wrong, but all mobile PDAs, phones, whatever seem to lack greatly on that subject. They do "support" internet browsing, yeah it loads google.com, but when you actually get to start using it for things that matter on the go like booking hotel reservations or real information search you often get frustrated by how slow and useless these things get.
But I'm not here to rant on the subject, I'm here to bring out some highlights of the current status of mobile browing on pocket pcs (more specifically; windows mobile 6). I will write about the main browsers available while ignoring the stuff that REALLY doesn't work... there are a few that I'm not sure WHY the HELL they even exist and downlodable.
The basic: Pocket IE on WM6
Copyright Wikipedia
Pocket IE is probably the first browser you run into when you own a pocket pc device. It comes bundled with any version of windows mobile and loads automatically if you have an "internet" button on your device. The thing features all the basic things you need for internet browsing including form support, CSS, cookies etc. Pocket IE works nicely for simple operations like checking your gmail or googling. It's not slow, but also not fast.
The problems start when you try to load a complicated page full of Javascript, CSS, images, whatever. The browser gets dangerously slow and may actually crash your device completely causing you to soft reset. Also most websites's design will get totally destroyed by the lack of proper CSS support (it supports CSS, but as some of you know every browser displays CSS differently; this one does it badly).
Pocket IE comes with an option to shrink the website to fit to your screen, this makes most sites unreadable. When you cancel that option things get even worse as you only see a small portion of the screen and can't really know where you are.
So basically it's a decent browser, much better than the one MS had on Pocket PC 2002, but still considering they had more than 8 years to work on it I would say they blew it big time.
On usability I give pocket IE 3 / 5 since it works but doesn't work on heavy websites
On features I give it also 2 / 5 since it's quite basic and does even offer tabs
The slow kid with "a lot of potential": Mozilla Minimo 0.2
The first thing you think when you read about minimo is "OMFG FIREFOX FOR POCKET PC?!?! I WANT I
T! LEMME HAVE IT!!!" ... But soon after install you get a big shock, or somewhat a slap in the face when you realize that this browser is simply NOT USABLE. I'm a Mozilla fan, I used their PC products all the time and quite love them. But minimo is yet to be something you want to install other than being curious of what it is.
On the good side of things Minimo is exactly what it promises to be, Firefox for pocket pc. But the problem is that the creator probably used too much of the original mozilla codebase making the browser VERY slow. Sometimes so slow you can't even click anything. I hope they will be smart enough to think about speed on their next few version or else the project may simply die of lack of userbase. When the next version comes out I will have to check it.
Now, minimo is still in very early development, so I do understand that it's not even supposed to work properly yet. But having to review the current situation of mobile browsers I just can't review on what it
will
be but only on what it
is
.
On usability I give minimo 1 / 5 since it simply too slow to work with, hopefully in the future it will become faster
On features I give it also 4 / 5 since well.. it's firefox, but it's not suitable for mobile yet so I give it one less point
The one I never thought I'll be using, but DAAAAMN: Opera mobile 9.5 beta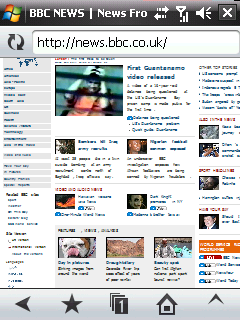 Copyright Opera website
I never liked the Opera browser on the PC. I never thought I will ever like an opera product. But their mobile version simply blew me away! The mobile version of Opera is simply everything you ever expected of mobile browsing. It's fast, reliable and most importantly: usable.
Contrary to other mobile browsers, Opera mobile 9.5 beta does not try to convert the page to fit on your little screen. Instead the browser shows your a zoomed-out version of the whole page that fits to the mobile screen. The first thing you think about is probably that the text won't be readable this way, but for that Opera lets you (easily) zoom in to whatever part of the page you want. This is done very nicely and smoothly and does not feel like being troublesome and slow like you would expect. Actually, opera mobile is generally VERY fast. After you load a page it feels almost like a regular PC browser. The technology they managed to produce here is stunning.
Other than simply working opera also offers the basic features you would normally expect from a browser nowdays like tabs, cookies, javascript support etc. I didn't see any flash support but I may have missed the plugin. I wouldn't want flash on my pocket pc anyway since it will probably be too slow to work with.
Opera is probably the best looking mobile browser I've ever seen. It's sleek, smooth and just feels solid.
The ONLY bad thing I can say about Opera is when you load a page with a lot of images you may get an "out of memory" message and the browser will crash. But considering my pocket pc is relatively low on ram (only 64MB and normally around 20MB free) I assume it's not the browser's fault. I wish they had a disk caching system for those cases, but I can live with it.
On usability I give opera mobile 9.5b 5 / 5. Simply because it WORKS
On features I give it also 5 / 5 as well. It has everything you need.
The one you hope will deliver, but too soon to judge: Microsoft (codename) Deepfish
Microsoft seems to working on a new mobile browser that looks really neat by what they're showing.
It's only downloadable for beta testers and I wasn't able to try it, but from what I've seen the thing they're really "amazed" about: zooming in/out already exists in the opera browser... so nothing new there. If it's anything based on Pocket IE I will stay away from it.
I'll write more about it when I get my hands on it.
The one that used to be was somewhat left behind: Access Netfront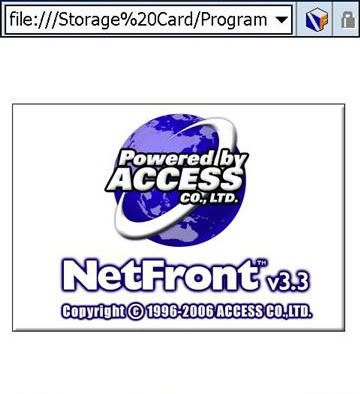 Back in the days of Pocket PC 2002, when Pocket IE was really
really
bad, there was an alternative browser called Netfront. Netfront was really good for those days when internet was still "1.0" and that most sites were made of simple forms and simple CSS templates.
But testing Netfront today (3.3 was the last one I checked) this browser was simply left behind in terms of technology and thus doesn't load properly most complicated websites. From the various random sites I checked Netfront 3.3 would completely destroy the original author's design and most of the forms were crumpled.
Regardless of that, Netfront is solid. It doesn't crash as often as IE and works relatively fast. I would use it for simple websites such as webmail and some text based sites but nothing too complicated.

On usability I give Netfront 3.3 3 / 5. It works relatively ok but I wouldn't use it for most things
On features I give it also 3 / 5 as well. It has most of what you need.
----------------------------------------
----------------------------------------
------
As I said earlier there are some other browsers out there, but since they are far from being either usable or even runnable I just decided to ignore them completely for this article as they are not worth your or my time. If I missed anything important I will be happy if you mention it in a comment.
That said, I think Opera 9.5b is currently the only serious player in the mobile browsing category for windows mobile. You can easily see that the people who made it had user experience set in their minds including basic and advanced features that you would expect from a mobile browser. I can honestly say that if you're looking for a mobile browser,
pick Opera
.
I'm a tech junky (jee really?) so ever since PDAs started becoming popular I was one of those first idiotic people to get them. I never owned a Palm though, but my friend had one and I found it highly unusable provided the B&W mini monitor and that all I could do with it is write personal notes and maybe play a few lame games. When Pocket PCs were the new hot things I got myself a Toshiba e740. At the time it was featuring a Pocket PC 2000 (eventually upgraded to Pocket PC 2002) operating system. Regardless of the device's hardware design flaws I was really satisfied and was using it all the time.